Have an Idea?
What does it take to see an idea or dream come to fruition on the internet. Let us walk you through the steps to getting your idea online to see if it is feasible and within your budget.
"This is just down right exciting - I can't stand it!! I'm soooooo glad I found Rob and the LeftLane Team!!! You're helping me make my dream come true - a wonderful looking store online!! It's looking just how I dreamed it would look. I think my blue color with gray is spectacular - the site looks so rich - classy! Can you tell I'm excited!!smile "
Ashley Hunter Skincare
LeftLane's Current Website Design Portfolio & Project
View Company Overview / Portfolio
Ashley Hunter Skincare
ASHLEY HUNTER SKINCARE was sold in all 13 Mercantile Chains for over twenty years. Mercantile Stores Company Inc. until 1998, was a traditional department store retailer operating 102 fashion apparel stores and 16 home fashion stores in 17 states. The stores were operated under 13 different nameplates and varied in size, with the average store approximating 170,000 sq ft (16,000 m2). Store names included Bacon's, Castner Knott, deLendrecie's, Gayfers, Glass Block, Hennessy's, J.B. White (originally White's), The Jones Store Company, Joslins, Lion Store, Maison Blanche, McAlpin's, and Root's.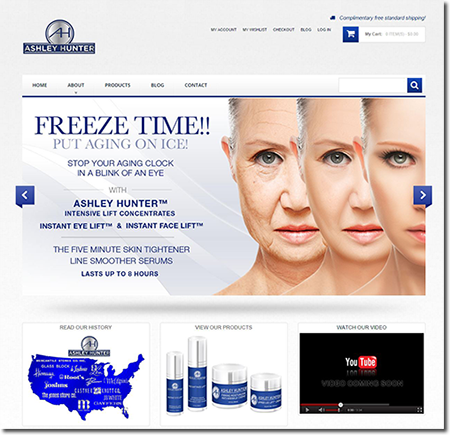 Website: https://ashleyhunterskincare.com
Call now for a custom Colorado Springs website design quote (800) 809-4126 or Request an Online Quote.